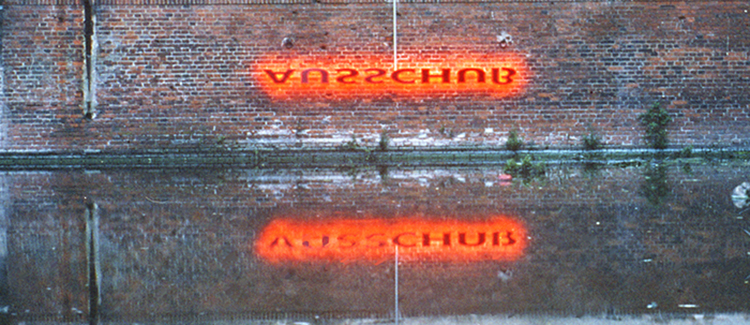 FONTENELLE
Group Exhibition - Site-specific
Kunstspeicher Postdam, Germany
From 26/06 to 05/09/1993
Curated by Christoph Tannert
The work is done in one of the façades which is reflected in the canal which flows next to the left side of the old wheat warehouse of Postdam's Prussian Army, which is now used as the city's Kunsthalle.
The word AUSSCHUB is made of metal and has inside a red neon light, it is installed on the lower right side of the façade. The word written in negative, appears reflected in positive on the canal's water surface and the wastes which are accumulated in this corner.
This work plays with the different meanings of the word AUSSCHUB especially emphasising:
AUSSCHUB as a rest of series, waste of industrial production and it is remarked by the fact that the word is surrounded by the waste which float in this area.
AUSSCHUB as the final commission fee of the legislative process. And as the final commission fee of the judicial process, which considers the AUSSCHUB COMISSIONEN which would meet in the city of Postdam to judge all the processes promoted by political mattersin the old DDR (east Germany). There all those who tried to cross the wall, and were arrested alive, were judged.
Above the word, a whole universe of blue neon elements is placed and floats throughout the façade. And coinciding with the sunset, it is reflected throughout the surface of the canal. This atmosphere is enhanced by the sound which comes from the small building under construction next to the Kunsthalle. The soundtrack is elaborated with the computerised deformation of the sound of whales and it is situated behind the adjacent building to the Kunsthalle. This sound remarks the magic and unreal air contrast with the strong meaning of the word.
Artists Chema Alvargonzález, Sergei Anufrijiev, Gashees Araen, Christine Borland, Lutz Dammbeck, Dagmar Demming, Georg Dietzler, Peter Fend, Andrea Fisher, Thomas Florschuetz, e. Twin Gabriel, Jochen Gerz, Andreas Ginkel, Gregory Green, Renee Green, Chris Hill, Bettina Hoffman, Alfredo Jaar, Katharina Karrenberg, Serge Kliaving, Thomas Kunzmann, Rachel Lachowicz, Jozef Legrand, Yurij Lejderman, FREIE PRAXIS Via ¬ Pina Lewandowsky, Olaf Metzel, Dan Mihaltianu, Paper Tiger TV, Pavel Pepperstein, Mikhail Roshal, Victoria Samojlova, Hans Scheuerecker, Lisa Schmitz, Roman Signer, Kiki Smith, Klaus Staeck, Norbert Stück, Inga Svala Thorsdottir, Peter Weibel, Wu Shan Zhuan