Chema Alvargonzalez (Jerez de la Frontera, 1960 - Berlin 2009) was a multidisciplinary conceptual artist who worked and lived between Barcelona and Berlin, passing through many other cities (Milan, Madrid, New York, Brasilia, Capri...). Alvargonzalez was an itinerant artist: a traveler in the movement who stood out for his nomadic life and his use of new technologies. Alvargonzalez lived many changes of residence since his childhood which favoured his vision of the world as a place devoid of frontiers.
His art projects revolved around the human being in a globalized world and how he related to his environment.
He was part of the emerging generation of Spanish artists in the nineties, along with Antoni Abad, Daniel Canogar, Antoni Muntadas, Eugenia Balcells, Eulalia Valldosera, Montserrat Soto, Mabel Palacín, and others who co-participated with them in various exhibitions.
In 2006 Alvargonzalez founded GlogauAIR, a non-profit art space, and residency in Berlin.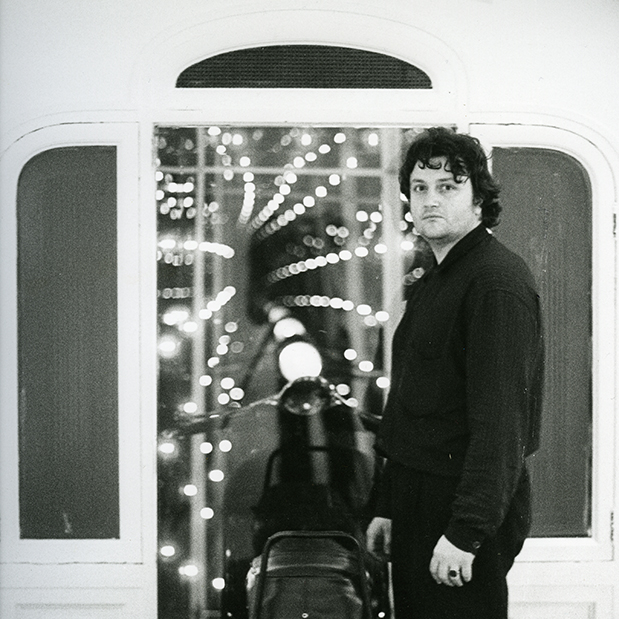 Artistic Career
In 1985 he began his studies in the field of the arts at the Escola Massana in Barcelona. He continued his studies at HdK (now UdK Berlin) under the direction of Rebecca Horn who influenced him importantly.
During his career, Alvargonzalez exhibited regularly in the galleries Carles Taché (Barcelona), Oliva Arauna (Madrid), Artinprogress (Berlin), among others, and created installations on the façades of emblematic buildings such as the Spanish Embassy in Berlin (1992), Munich Airport (2000) and the Swiss Embassy in Berlin, located a few meters from the German Parliament (2001).
Alvargonzalez was awarded several grants in recognition of his work. In 1991 he received a scholarship for training abroad from the Department of Culture of the Generalitat de Catalunya. The following year, in 1992, he was awarded a scholarship for a work project in the city by the Berlin Senate.
Art Projects 
In Berlin, Alvargonzalez experienced the fall of the wall in 1989 and the urban changes in the city that challenged him as an artist. He expressed his personal understanding of these challenges and transformations in an interview in 2001 with curator Stefano Gualdi: "My work on the idea of ruin is not based on the romantic ruin but on another idea, namely that something that has been destroyed has to be transformed: That something that has been destroyed has the possibility of being transformed and thus becoming a generator of creative energy."
Alvargonzalez's work covers various disciplines including photography, site-specifics, light installations, video, sculpture, writing … Going beyond documenting and photographing his surroundings, Alvargonzalez created his own cartographies and maps. The artist mapped the geography of his movements, generating Mapas de Ciudad (with images of cities such as New York) and the dreamlike landscapes from the series Un sueño de Ciudad (with pictures of cities such as Berlin, Madrid, or Castellón de la Plana), partly exhibited in 2001 in Cànem Galeria.
Artistic residences
Through participating in Art residencies such as Künstlerhaus Bethanien (1995, Berlin) and Casa Malaparte (1994, Capri) and in Initiatives such as Kunstprojekt Tacheles (1990, Berlin), Alvargonzalez connected directly with places of encounter and exchange of knowledge between art professionals.
Moreover, Alvargonzalez was influenced by other artist's ideas such as Joseph Beuys who believed that we were all artists, getting rid of the idea that Art was only for the elite. Beuys believed in the fusion of art and life.
Alvargonzalez connected all these ideas together with his personal experience of Berlin -as he understood the city as a vibrant metropolis and a clear example of the early globalized world- and created GlogauAIR in 2006.
In 2006 Alvargonzalez started the project of GlogauAIR in the same building that is still hosting the residency today: a creative space meant for artists from all over the world. With the creation of GlogauAIR Alvargonzalez demonstrated one of his personal qualities: giving and sharing in order to create and regenerate ideas and projects.