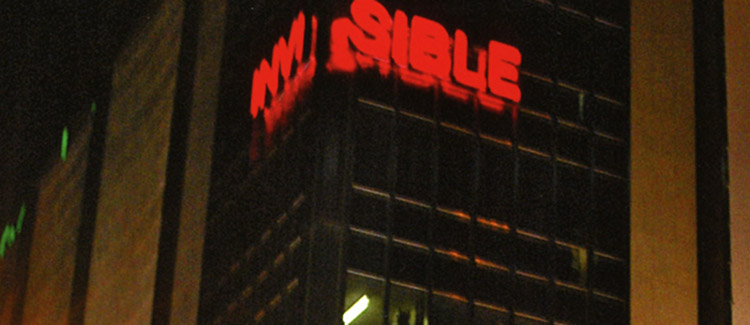 Espacios Imaginados
Site-specific 
El Corte Ingles, Madrid.
From 06/02/2006 to 21/02/2006
Curated by Alfonso de la Torre
In the context of ARCO 2006 different Sites-Specific are displayed all around Madrid by different Contemporary spanish artists: Chema Alvargonzález, José Manuel Ballester, José Manuel, Broto, Alicia Martín, Soledad Sevilla.
Words change and alter their meaning according to the spaces they occupy, when located in different places of the city the urban landscape is altered by meanings that highlight the events that the history of these places collects. Words in these places become elements that burst the images of the places that at the same time are part of a collective history.
THE VISIBLE
Walk around the city, emphasizing that moment of life in which we all are part.
THE INVISIBLE
Placed in the facade of the Department Stores of El Corte Ingles of La Castellana, Madrid, it refer to events of February of 2005, a great fire destroyed the building of Winsor in front of the façade where the Word-sculpture is placed, referring to the ephemeral, which although not perceived dwells in ourselves.
Metaphor of the discourse of Art itself, where the values ​​of the object of visual art are not the visible elements, rather everything that it awaken in the spectator and can not enclose in the discourse.