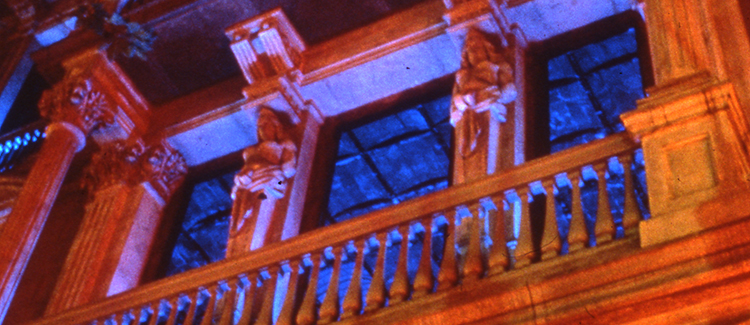 Temp de pas
Site-specific
Consejo de Ciento 331, Barcelona
From 20/12/1994 to 20/01/1995
Musical backdrop by Javier Hernando

This project is realised during a moment of transition in the life of the building in which it is situated. The interior space of the building is illuminated by lights installed in the very window openings that permit the interior to be glimpsed from outside. The blue light transports us to a level of unreality, emphasising the myth of time slipping between our fingers.
In the vestibule, we find a suitcase that has travelled the great metropoli: New York, London, Berlin, Paris…in each of which it found the same flow that vanishes with the passing of minutes, of the seconds that, accumulated, become lost in the horizon of monotony.
It is the passing of time, moved by our conscience to another reality that gazes inside us.
This installation is the first project sponsored by the Carles Tache Gallery to be situated outside of that gallery's space.