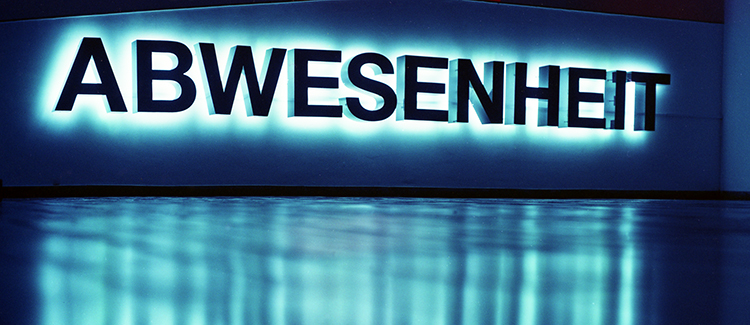 ABWESENHEIT
La Ausencia
Solo Exhibition
Galería Carles Taché, Barcelona (Spain)
From December 1992 to January 1993
Curated by Dr. Claudia Büttner
Chema Alvargonzález takes Carles Taché Gallery in Barcelona to exhibit a different version of a previous work presented at the Spanish Embassy in Berlin, an embassy that was in runes. On the walls of the former Spanish Embassy Chema finds inspiration and prepares an installation of lights and sound. In one of the walls we could find the word Abwesenheit (Absence) that gave name to the installation. The artist adapts this installation -designed for the outside and a specific context- to an interior space such as the Gallery. Chema creates a new tour guided by the elements exhibited: neons, photographs resting on the walls, suitcases that talk about travelling, stones of the building... We find elements from the outside unite with intimate others.
Original text: ESTÉVEZ, ISIDRE. Chema Alvargonzález: "In L'Art visual La Llum és el més important" published in 30/12/1992, Diari of Barcelona. Barcelona.
Translation: Mariona Benaiges Pecanins, 2019.