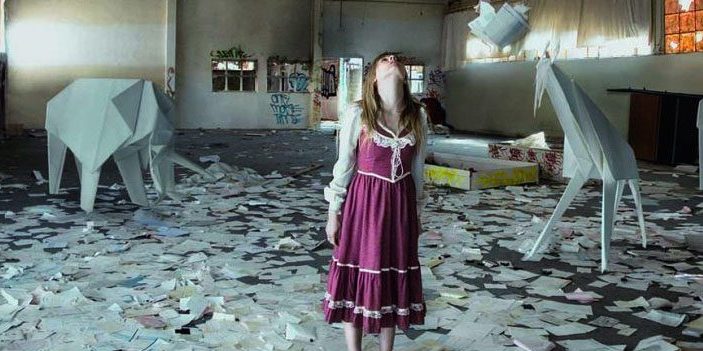 ELÉCTRICO Y LEJANO / ELÈCTRIC I LLUNYÀ
"Eléctrico y lejano" (electric and distant) is an olfactory expression of perfume maker Ernesto Ventós that makes up the olorVISUAL collection. The exhibition comprises a selection of 87 artworks from some of the most prominent national and international photographers. It connects photographic language and perception by means of the eyes and the sense of smell.  The selection of photographs has been made by linking the aesthetics and conceptual forms to some olfactory references. Short notes, phrases or aphorisms by the artists can be read relating to the smell that each art works provoked on the artists that made them.
The olorVISUAL collection started in 1978 and was baptised as such by the poet and artist Joan Brossa to teach us smell through art and to see through the sense of smell.
Artists Pep AGUT, José Ramón AIS, Javier ALMALÉ / Jesús BONDÍA, Chema ALVARGONZÁLEZ, Nobuyoshi ARAKI, Manel ARMENGOL, Jamie BALDRIDGE, Roger BALLEN, José Manuel BALLESTER, Carlos BETANCOURT, Richard BILLINGHAM, Leyla CÁRDENAS, Jordi CASAÑAS, Vincenzo CASTELLA, Jacobo CASTELLANO, Juan Manuel CASTRO PRIETO, Toni CATANY, Lynne COHEN, Hannah COLLINS, Carles CONGOST, John COPLANS, Magdalena CORREA, Jeff COWEN, Luciana CREPALDI, Gregory CREWDSON, Tim DAVIS, Mario DE AYGUAVIVES, Marlon DE AZAMBUJA, DE VAL & LETO, Cecila DE VAL, Oleg DOU, Bill DURGIN, Manel ESCLUSA, Jesús ETXARTE – EVRU, Anna FERRER, Esther FERRER, Roland FISCHER, Pere FORMIGUERA, Daniel & Geo FUCHS, Adam FUSS, Antonio GIRBÉS, Claus GOEDICKE, Luis GONZÁLEZ PALMA, Rodrigo GONZALO, Douglas GORDON, Arancha GOYENECHE, Nicolas GROSPIERRE, Patrick HAMILTON, Nanna HÄNNINEN, Ignacio HERNANDO, Teun HOCKS, Zhang HUAN, Alfredo JAAR, Helle JETZIG, Eeva KARHU, Ellen KOOI, Ann LISLEGAARD, Almudena LOBERA, Chema MADOZ, Anna MALAGRIDA, Robert MAPPLETHORPE, Angel MARCOS, Carmen MARISCAL, Cristina MARTÍN LARA, Duane MICHALS, Antoni MIRALDA, Linarejos MORENO, Yasumasa MORIMURA, Rosa MUÑOZ, Alvaro NEGRO, Loan NGUYEN, José NOGUERO, Eduard OLIVELLA, Aitor ORTIZ, Ouka LELE, Riitta PÄIVÄLÄINEN, Cecilia PAREDES, Walter PFEIFFER, Anna REIVILÄ, Humberto RIVAS, Johann RYNO DE WET, Ixone SÁDABA, Howard URSULIAK, Juan USLÉ, Eulàlia VALLDOSERA, Irene VAN DE MHEEN