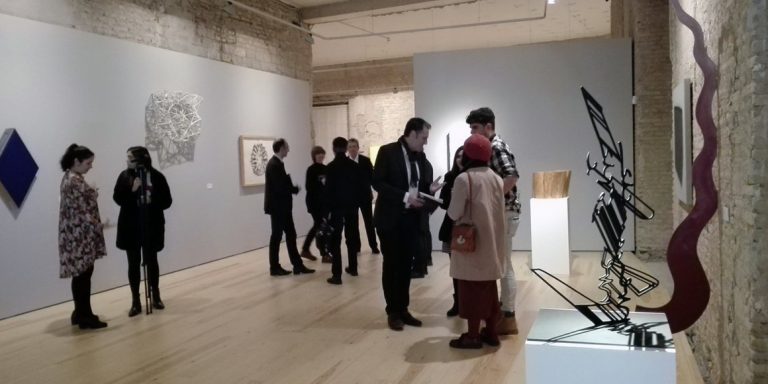 LA NECESIDAD DE LO INFINITO
Preséncia, 2008
Iron Structure
75 x 40 x 40 cm
Chema Alvargonzález commented in an interview with Stefano Gualdi that "the word, like architecture, is the reflection of the collective state of the human being [1]". No wonder then that his words (in iron, light, video, photo...) erect as constructions whose shape – beyond the visual limitation that the materials give us – hides a language of its own, whose unlimited versatility offers to its spectator, whatever their perception is, the possibility of extracting from it that facet with which more people empathize, bringing out its most authentic side.
Presencia (Presence), 2008 was conceived to honor the memory of Inés Suárez, who from her native Plasencia (Spain) broke with the conventions of his time and made to the Americas.
Beyond his exploits as a colonizer, what hosts the piece is the intensity with which Inés Suárez lived and took the reins of his destiny, leaving for posterity the trace of a unique personality.
In this way, Presencia, 2008 encloses in its graphology a history –like Inés'-, as wide and intangible as nuances have our senses, confined in an iron body. Nevertheless, Presencia, as a conscious entity and universal nature, shuns of this vast skin that keeps it stagnant with the intention of fulfilling the task of any word of its size: to be perpetual. Therefore he tries to escape, in a continuous movement that reveals itself through an evident "fight-dance" between meaning and signifier, matter and idea,that physically deconstructs in front of our eyes. A dichotomy that has its balance in the formal expression of the piece and all that derives: the weight of the material, the air that transpires, the light that emanates and with it the shadow, whose transmutable property allows the body to acquire innumerable tones, environments, messages , that is to say, it possesses the space-time; it presents thus all those ethereal records that in principle seem to be lost in the air, but that they really stay dormant, always attentive, in the most hidden part of our memory and making act of presence, either by treason or fortune, before the most insignificant and unsuspected element.
In this case, the light's weight and the shadow's shape, the color, the surface's texture where it is projected, the aroma that releases the dust that contains the air mixed with other individuals around us... Scent, colors, textures... They can whip how punctured in the chest's center in the form of a memory or walking like a small bright light our spine, is then when the words come into play and begin to sprout to allow us an accurate reconstruction of our experiences from its intangibility, showing that the presences, like the scents, are in continuous circulation around us.
Lilianna Marín de Mas
April 2015
[1] Gualdi, Stefano; Chema Alvargonzález: Reflejos de Ciudad (Milano, 2001)
Translated by M. Benaiges Pecanins, 2019
Comenta Chema Alvargonzález en una entrevista con Stefano Gualdi que "la palabra, como la arquitectura, es el reflejo del estado colectivo del ser humano[1]". No es de extrañar entonces que sus palabras (en hierro, luz, vídeo, foto…) se erijan como construcciones cuya forma – más allá de la limitación visual que nos confieren los materiales – esconden un lenguaje propio, cuya versatilidad ilimitada, ofrece a su espectador, sea cual sea su percepción, la posibilidad de extraer de ella aquella faceta con la que más empatizan, sacando a relucir su lado más auténtico.
Presencia fue concebida para honrar la memoria de Inés Suárez, quien desde su Plasencia natal rompió con los convencionalismos de su época y se hizo a la mar hacia las Américas.
Más allá de sus hazañas como colonizadora, lo que acoge la pieza es la intensidad con la que Inés Suárez vivió y tomó las riendas de su destino, dejando para la posteridad el rastro de una personalidad única.
De este modo, Presencia encierra en su grafología una historia – como la de Inés -, tan amplia e intangible como matices tienen nuestros sentidos, confinada en un cuerpo de hierro. Aun así, Presencia, como ente consciente y de naturaleza universal, rehúye de esta vasta piel que la mantiene estancada con la intención de cumplir el cometido de cualquier palabra de su envergadura: ser perpetua. Por ello intenta escapar, en un continuo movimiento que en ella se desvela a través de una evidente "lucha-danza" entre significado y significante, materia e idea, que físicamente la de deconstruye ante nuestros ojos. Una dicotomía que haya su equilibro en la expresión formal de la obra y todo lo que deriva: el peso del material, del aire que transpira, la luz que emana y con ella la sombra, cuya propiedad transmutable permite al cuerpo adquirir innumerables tonos, ambientes, mensajes, es decir, posee el espacio-tiempo; se presentan así todos aquellos registros etéreos que en principio parecen perderse en el aire, pero que realmente se alojan adormecidos, siempre atentos, en la parte más recóndita de nuestra memoria y haciendo acto de presencia, ya sea por traición o fortuna, ante el elemento más insignificante e insospechado.
En este caso, el peso de la luz y la forma de su sombra, el color, la textura sobre la superficie donde se proyecta, el aroma que desprende el polvo que contiene el aire mezclado con otros individuos a nuestro alrededor… Aromas, colores, texturas… Pueden azotar cuan punzada en el centro del pecho en forma de recuerdo o recorriendo como una pequeña luz fulgurante nuestra columna vertebral, es entonces cuando las palabras entran en juego y empiezan a brotar para permitirnos una reconstrucción fidedigna de nuestras vivencias desde su intangibilidad, demostrándonos que las presencias, como los aromas, están en continua circulación a nuestro alrededor.
Lilianna Marín de Mas
Abril de 2015
[1] Gualdi, Stefano; Chema Alvargonzález: reflejos de ciudad (Milano, 2001)
Artists: Angeles AGRELA, Carlos ALCOLEA, Chema ALVARGONZÁLEZ, Antonio BALLESTER MORENO, Erwin BECHTOLD, Stefan BRÜGGEMANN, DANIEL CANOGAR, Anthony CARO, Tom CARR, Lawrence CARROLL, Joana CERA, Martín CHIRINO, Ángela DE LA CRUZ, Koenraad DEDOBBELEER, Pep DURAN, Equipo 57, Ñaco FABRÉ, Joan FONTCUBERTA, GABRIEL, Cristina GARCÍA-RODERO, Herbert HAMAK, Jus JUCHTMANS, Pep LLAMBÍAS, Júlia MARISCAL, Jason MARTIN, Hugo MARTÍNEZ-TORMO, Jordi MITJÀ, Begoña MONTALBAN, David MORENO, Miquel NAVARRO, Edgar NEGRET, Ernesto NETO, Jean Michel OTHONIEL, Pablo PALAZUELO, Manolo PAZ, Pamen PEREIRA, Víctor PIMSTEIN, Enric PLADEVALL, Jaume PLENSA, Xavi PUENTE, Rafael REVERÓN-POJÁN, Charles SANDISON, Susana SOLANO, Rainer SPLITT, Claudia TERSTAPPEN, Wolfram ULLRICH, Darya VON BERNER, David YMBERNO.