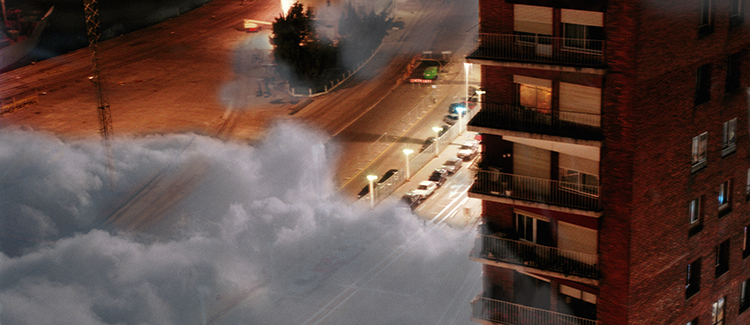 REFLEJOS DE CIUDAD
Solo Exhibition 
Gallery Artinprogress GmbH, Berlin (Germany)
From 02/10/2001 to 01/12/2001
Alexander Platz, 2000
Un sueño de ciudad (Milán) I, 2001
Un sueño de ciudad (Berlín) II, 2001
Puzzle VII, 1999
The city is presented in this work as an invented stage set, altered in scale and capable of evoking reality but also transcending it by demonstrating the duplicity of meaning between certain buildings or landscapes. Juxtaposed in mirrors under certain light, these buildings and landscapes acquire a new dimension that transports us to unimagined worlds. Mirrors, fragments of urban photographs, aluminum structures and light are combined into a personal and suggestive reality.
The cities reflected in the mirror can be at once any city or our own city, communal spaces through which we travel and which we appropriate and convert into our own personal, internal circuit. There is a studied desire to capture the urban essence and to create an infinite architectural archive that might serve as a universal reference for the restless observer.
Se  presenta  la ciudad como escenario, un escenario cambiado de escala e inventado por él, que puede evocar la realidad pero que la trasciende demostrando a veces la duplicidad de sentido de algunos paisajes o edificios, que combinados a través de los reflejos y la luz adquieren una nueva dimensión que nos transporta a mundos insospechados. Espejos, fragmentos de fotografías urbanas, estructuras de aluminio, luz, se combinan formando una realidad personal y sugerente.
Estas ciudades pueden ser a la vez cualquiera y la propia ciudad reflejada, espacios comunes por los que transitamos en cualquier lugar del mundo apropiándonos de ellos hasta convertirlos en un recorrido personal e interno. Hay un deseo estudiado de recoger la esencia urbana para organizar una especie de archivo arquitectónico infinito, que funcione como referencia universal para cualquier observador inquieto.
Chema Alvargonzález